Wow, the last week was just awesome. So much happened. In case you don't know: last week was the so called "International Games Week Berlin"! More than 11 small/big events focusing on the games industry took place in Berlin for the whole week. The German Games Awards, Quo Vadis, Gamesfest, appsworld etc.
We had time and money for only one event – AMaze. / Berlin 2015 – so we made sure we make the most of it. You might remember our trip to this very event from last year (here's the blogpost: AMaze. / Berlin 2014) and the best thing right from the start: last year was awesome, but this one was even better.
Little Disclaimer: Some of the photos were made by Julian Dasgupta and are tagged accordingly. He wandered around AMaze and made a ton of photos.
If you want see all of them, here you go: A Maze Berlin 2015 – Opening Day
We are super thankful that we can use some of his pictures.
The photos we made…suck, at least the quality does, but hey, it's something!
AMazing changes

As last year we only could manage our trip to Berlin because of my best friend Désirée. We could stay at her place for the whole week. Big thanks for being a supercool host! <3
AMaze 2015 started at Wednesday, we arrived already Tuesday in Berlin in order to prepare ourselves. Organising tickets for the subway, checking out the best subway-lines and so on. That being said: One of biggest improvements of this years AMaze-Festival was the location. Last year there were two locations with an approximately distance of 15 minutes. It wasn't that bad, but walking from one area for talks and to the other one for workshops and the game exhibitions was quite tiresome after a while. This time the organisers focused only on the Urban Spree-Area and expanded. In the so called "Urban Spree Gallery" all the games were exhibited and buildings like the "Ambulatorium" or the "Neue Heimat" were used for talks and workshops. Our feet were grateful, since these buildings were superclose to each other.
On the first day the exhibited games were set up. At 6pm (18:00 Uhr) the Opening Event started. We had some time to talk to different people, these include gentlymad, a small indie-team from Trier who won the 1st place in the "Best Newcomer Concept"-Categery of the German Games Awards for their game "In Between". Way to go, guys!
We met also some familiar faces from Hamburg: Slash Games, our friend Eduard Anton (who made this awesome webpage), Shelly Alon and a bunch of other indies from Hamburg. This event is truly one of the best opportunities to catch up with old friends and meet new ones.
Of course at the first day there was a great crowd, that's why we didn't spend too much time playing games and just had fun watching people playing games. You know, like a Let's play : D
Of Talks…
Thursday and Friday keeped us on our toes: Lots of interesting talks and very cool workshops. Sadly we hadn't the time to attend to every workshop or talk, so we had to compromise. If you hadn't the chance to attend at the AMaze Festival, no worries, all the talks were recorded: Voicerepublic Archive
Holly Gramazio's talk "Strange Pixellated Genitalia for Beginners" was such a nice and funny one. She made a game about the ridiculous changes of content in pornography in the UK. And honestly, the game is hilarious. Though she hasn't such a deep knowledge in creating digital games, because she comes from a physical games/intallation-background, she had some valid points on the (dis)-advantages of both types of games.
If you want to check out here game, here you go: Pornography For Beginners
"Expedition Essentials – 1 year Maschinen-Mensch" by Johannes Kristman and Riad Djemili from "Maschinen-Mensch", a german Indie-Team, was a very insightful talk about these two former YAGER-developers (Spec Ops The Line/ Dead Island 2) who started their own Indie-Studio. They talked about how they tackled their gamedesign, their approach of marketing and their community-relations. I also had a chance to talk with these guys about game development, super likeable people. They'll probably come to our Hamburger Indie Meetup in order to give a talk, too.
Check their game out, it is amazing: Curious-Expedition
A supercool thing was the Masterclass on Friday. It's an one-hour long in-depth conversation between a journalist and a "veteran" of the game scene. Last year Dennis Kogel sat down with Jonathan Blow and had a really nice talk about his games, puzzledesign and the state of adventure games. This year Leigh Alexander had a talk with Rami Ismail about his games, activities outside of Vlambeer and the change of the games industry in the last couple of years. It was really cool, but if one is familiar with Rami's work most of the conversation wasn't that new, but the two had a really great back and forth.
It was just fun listening. He talked about different aspects of the games industry:
From his work at Vlambeer to the indie-development, about his concept of different stages of the gamedeveloper-communities (blogpost), how one should approach developing a game and so on. Leigh did also a very fine job bringing her personal point of view as a journalist to the discussion. She criticized how developers used to and still sometimes approach the press in a wrong way and gave tips and insight what she want to see from a press-release. I do highly recommend this talk: Masterclass
And the coolest thing about that: Like with the guys from Maschinen-Mensch I talked to Rami about our local meetup and maybe he'll come around, too! Would be awesome!
My personal favorite talk of this years AMaze was Dennis Wedin's (Artist/Designer at Dennaton games – Hotline Miami-Series, Keyboard Drumset Fucking Werewolf),  talk called "The Sequel".
He explained why and when you should make or should not make a sequel to a game. In the end he didn't have a big Pro/Contra-List, but gave a talk about why "Hotline Miami 2" is what it is. It may sounded like justification, he did bring up the infamous debate about the rape-scene, but I had the feeling that there was a developer who just explained what they wanted to achieve. It was an intimate and pure talk I loved listening to, since he emphasized that they make games they want to play and if it catches on it's fine and if people don't like it it's fine, too.
We all did probably read something similar on different blogs: "Make games you want to play" – hell, even we, Behind The Stone, have something similar in our About-Page, but there is a difference between self-righteousness and passion, and Dennis clearly talked about the latter. It was formidable.
…and Workshops
There were also a lot of workshops. As stated above, we hadn't the time to attend to all of them and to be honest, not all of them interested us.
Microsoft occupied as almost the whole Thursday : D
Agostino Simonetta, responsible for the ID@XBOX program in Europe explained a lot about this very program, the state of the XBOX ONE and the changes when Windows 10 arrives.
It was very informative and we really appreciated the Mr. Simonetta himself took the time to answer every question the developers had regarding the new possibilities with Windows 10 and the ID@XBOX program. We liked it very much, since Mr. Simonetta stressed out that it's very important to Microsoft to get in touch with the developers and if there are any problems regarding developing for their platforms, one should just contact them.
After that Vladimir Ignatov from Black Forest Games talked about their experience porting "Giana Sisters" to the XBOX ONE. To sum it up: they hadn't that much problems. The console is powerful, the API is well documented. I had a chance to talk with him, he's such a nice guy and offered help if we should ever have problems with our XBOX ONE devkits or developing for the XBOX ONE at all.
Another cool thing was the "Indie Arena – Under the Hood Session". Different developers from Germany, Austria and Switzerland showed off their games. Well, duh, yeah, but this was a little bit different: the idea was to have a look at the code of the game and ask questions. How did devs approach this very problem? Why did they use certain tools? Most of the time I talked with Michel Wacker, CEO of the indie-team Gentle Troll, about their really sweet game "The Unstoppables", a 2D Adventure game for mobile devices. It will soon hit the mobile stores, check it out then, it will be free. We talked about their 2D workflow with Unity and After Effects. It was really cool and interesting since one doesn't get to look at others code all the time. Yeah, in general you're busy looking at your own : D
AMazing Games
As mentioned above we didn't play too much games at Wednesday, but Thursday and Friday we roamed now and then in the exhibition area and checked some games out.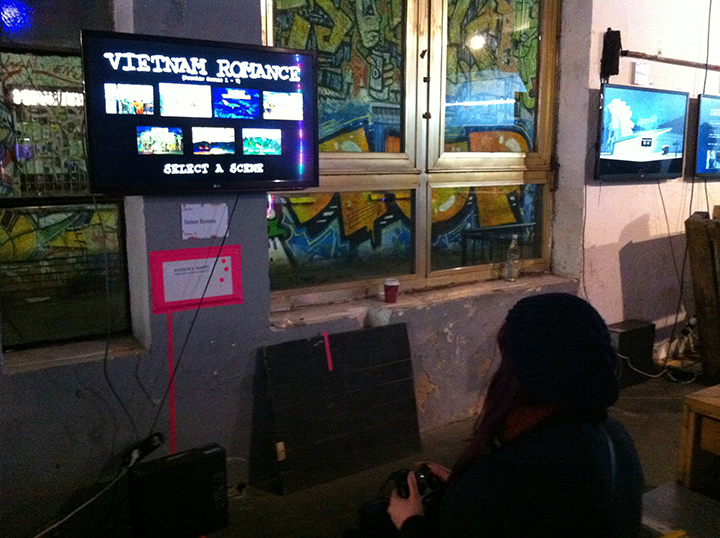 Here's our Top 3-List:
1) Line Wobbler
This masterpiece won two of the AMaze-Awards. I'd went on a rampage if it didn't. Some of my friends got sick of me telling them to play Line Wobbler. Again.
It's an "1D Dungeon Crawler" You're controlling a green LED and have to steer it through a LED strip, avoiding lava-pits and kill enemies.
Don't get what I'm talking about – check this video out:
2) Herald
A really nice piece. It's an Interactive Period Drama for PC, Mac and Linux. It takes place in an alternate 19th century, where you play Devan Rensburg, who searches for his roots.
The game can't be graphically comparted to the likes of Crysis or something similar, but it's art-direction, especially in the Dialog-Sequence (Boy, the Dialogs! LOVE the animations), is just beautiful. The setting and theme is also very appealing. The devs run a Kickstarter-Campaign, have a look: Herald on Kickstarter
3) Tower 57
What can I say. I love 16 Bit. I love fast paced top-down action like Alien Breed. Taking classic arcade-gameplay with retro-art and combining it with smooth controls. Loving it. I sure hope there will be a console-version. Need that one on my PS4!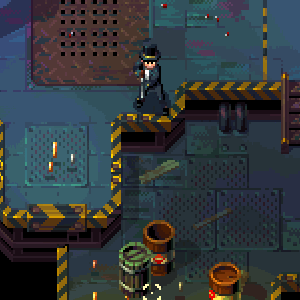 In the end we had a blast. We could hang out with old friends and enjoy fun games together. Simultaneously we were able to get to know new people and share experiences. We were really tired when we arrived back in Hamburg, but we enjoyed every single second at AMaze and already are looking forward to next year. Thanks, AMaze!