Woah, the last two weeks were really stressful, but also superfun. I totally forgot to mention it in the last blogpost. From the 10th to 19th of September Hamburg was the host of the first so called "Hamburg Games Celebration". Three big events took place in Gamecity:Hamburg. Almost two weeks non-stop conferences, talks, workshops and networking. And I had the honor (and pleasure) to be involved in different ways in each event: from hall-manager to speaker to moderator. Let's recap this.
(All photos are taken from the Facebook-Galleries of the respective events! I took some with my crappy Phonecamera, but it turned out the pictures are shit. I'll link to the galleries at the respective sections)
First event: DevGAMM (10.09. – 11.09.)
DevGAMM is probably the biggest east-european gamedevelopment event and usually takes place in Moscow. Valeriya Mallayeva, the managing director, and the whole team brought the the russian event to Hamburg. And boy was it cool. It took place in the Grand Elysée Hotel, so the location was top-notch.
We had multi-faceted talks and panels: AAA-wisdom was shared by Stan Just, producer of "The Witcher 3", who talked about how CD Project Red created the art for Witcher 3. Sjoerd De Jong showed how to build a 2D Game in Unreal Engine 4, the lovely Kristina Rothe explained how to tackle Motion Capturing with Kinect and Unity. Michael Schade gave us some tipps how to succeed on Kickstarter serving their KS-campaign of their game "Everspace" as an example. And much much more – I was asked to be one of the hall-managers and help supervise things regarding some talks. Of course I did. Couldn't attend at all panels or talks that way, but I had such a great time. Met very cool new people, played fun games, gained and shared experience. Hopefully we can attend the event someday in Moscow!
For more pictures, click here: DevGAMM Gallery
Second event: Indiegameleon (11.09. – 15.09)
Behind The Stone had a visitor: Oliver Eberlei from Hammerlabs. Besides creating games like "Farm For Your Life" and "Sky Arena" he's also responsible for building and organizing the "Indie Arena Booth" at the gamescom. Since indies help out indies we offered him our comfortable couch. Only one condition: he had to play Towerfall and Nidhogg. So he did. He also lost. Indiegameleon was also the reason he had to be in Hamburg. Our fellow devs and friends "Slash Games" helped bringing this indie-focused event from Groningen (Netherlands) to Hamburg and it was apparently a success. Although there weren't as much visitors as I personally hoped for (a rough guess: kind of the same amount as our local indie-meetup), the event was quite well received. We had everything one could ask for: a nice location (thanks to HAW Hamburg!), cool showcased games, interesting talks and panels. Speaking of which:
Oliver, Matthias Löwe (Organizer of different Game- and Gamedev-Events), Robin Kocaurek (Co-Founder of Klonk Games) and me were invited as kind of the representatives of each "hemisphere" of Germany and discuss the current state of the german indie-dev-scene (I was really honored to participate in this discussion!). André Bernhardt, the well-known "Indie Advisor" moderated the discussion. What's the state of the current devscene? Do we struggle? Where are the successfull german indie-devs? What should be changed or should anything change at all and so on. We had a really nice and long chat and in the end there wasn't a real conclusion but: "Do Shit." Make. Build. Organize. The german indie scene is still behind the US or Scandinavian scene, but we're doing better in the recent years. With each year there are more devs, more opportunities and more events, because we did so. It's corny, but nothing comes from nothing. We make games, we build our networks and we organize our events.
That being said, the Indiegameleon is another proof that the german indie-dev is doing better and hopefully we'll see more of it.
For more pictures, click here: Indiegameleon Gallery
Third event: Play 15 (15.09-19.09)
Wuh, the 8th installment of the festival for creative gaming. This event is all about closing the gap between creativity, culture, art and gaming. Sadly I had not the time to attend to all the different talks, lectures and workshops, since I was busy with some other things, but our local indie-devs had their very own session there and I had the pleasure to moderate this one – Four different developers (Tiny Roar, Osmotic Studios, Maik Helfrich and CrazyBunch) had the chance to present their games to the audience. The talked about their games in general, explained the gameplay, how the idea and the team was formed. Although the audience was small, people liked it. Months before I called out for local devs to participate in this session, sadly only four went for it. Wished that more devs represented the local scene, but yeah.
As said – I only had the time to moderate this session and play some of the showcased games (LINE WOBBLER WAS THERE!!!), but if you are in town when the Play-Festival takes place, believe me: make sure to be there.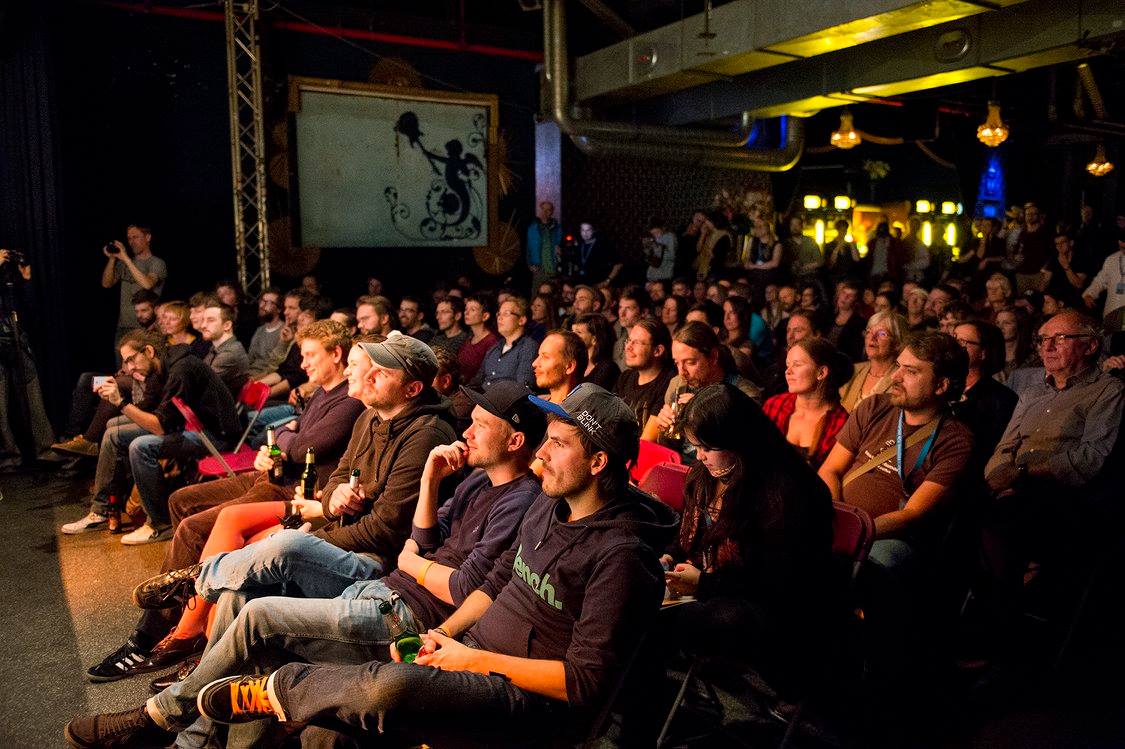 Fore more pictures, click here: Play 15 Gallery
In summary I had a really great time. I met new folks, had the chance to hang out with old ones, learned new things and played games – threefold! Can't wait for next year when Hamburg celebrates games again.